Cooperation with Marvel for AR game "Dimension of Heroes"
china
game post production
localisation
sound engineering
Uncategorized
Date 22 December 2019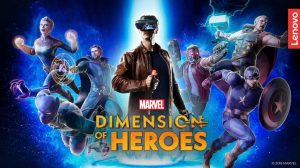 This year was significant for our work on Game post production. The new AR game "Dimension of Heroes" was truly the highlight, The new smartphone-powered augmented reality experience, from Marvel and Lenovo™. It  immerses fans in one of the world's most beloved franchises. Players can harness the powers of six legendary Marvel Super Heroes in an original story which sees them take on infamous Super Villains standing right before them in their own living rooms!
So far,players wield the legendary weapons and powers of Doctor Strange, Captain America, Thor, Black Panther, Captain Marvel and Star-Lord against a host of augmented reality Super Villains including some new ones not featured in the Avengers films.
But we cast actors, recorded and editing many more characters than just those for the Chinese language version of the game! More will be released in future.
Check out the trailer here:

The epic experience is playable across the following three modes: Story Mode, in which the Dread Dormammu, Lord of the Dark Dimension, launches a surprise attack on Earth with his alliance of Super Villains, including Loki, Ronan the Accuser, Ultron Prime and the Winter Soldier. Survival Mode lets players use their heroic powers, playing as any of the six heroes, to fend off waves of powerful enemies. Players compete to achieve the highest score and rise up the global online leaderboards.
Finally, players can also partner up with a friend in Co-Op Mode, where they each play as a Marvel hero battling the forces of evil side-by-side in the same room, while competing against each other for high scores.
One of most challenging but exciting projects, Discover more at www.dimensionofheroes.com.