Sanctuary – Goth Industrial Rock Night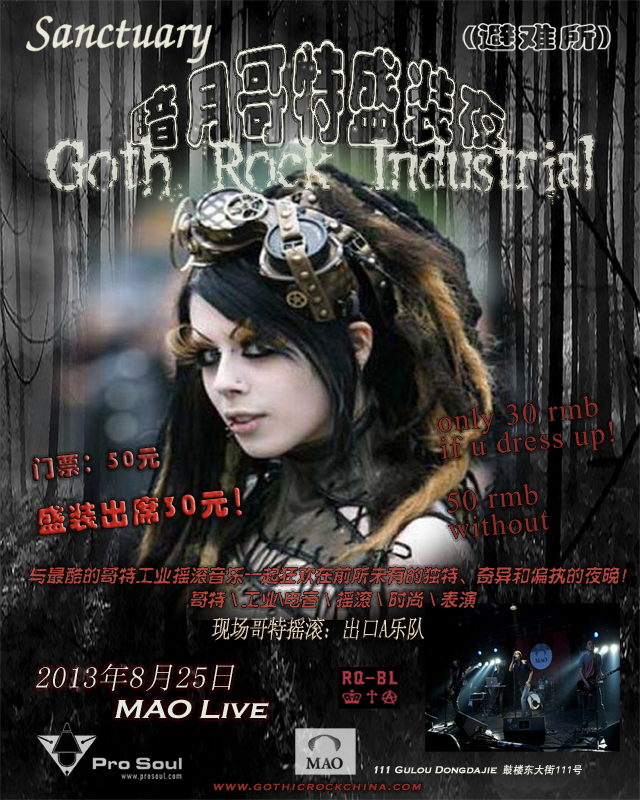 Cyber Goth Industrial Rock Night
Sunday, August 25 2013 8:00 p.m. – 01:00 a.m.
at Mao Livehouse
111 Gulou Dongdajie,Beijing,100009
50rmb, ONLY 30rmb with Gothic style dress!
Celebrate the unique, the weird, the gothic of Beijing with the coolest cyber goth industrial rock music!
*Foreign DJ-JAMA :foreign DJ – JAMA
– Playing Gothic Rock, Industrial, EBM, Electro like:
NIN, KMFDM, Nightwish, Nitzer Ebb, Lacuna Coil, Rob Zombie, The Prodigy, Ministry, and more!
*Live Gothic rock:
– Exit A  
*Cyber Goth Go Go Dancers
*Special visual art:
*Fashion:
*Videos:
*Cool people:
Mao Live 25th,Aug,2013
111 Gulou Dongdajie,Beijing,100009
Come and be a part of one of the coolest events in Beijing this month!
And bring your friends so we can make this event great and do it every month!
Join our Douban community page!
http://www.douban.com/event/19463511/